SIA Annual General Meeting and Dinner 2016
The 30th Solvents Industry Association Annual General Meeting and Dinner took place at the Q Hotel Stratford Manor, Stratford-Upon-Avon on the 19th October.
44 delegates from SIA member companies and their guests attended the event, which included presentations from Dr. Rob Oades, Chair of the SIA Technical Committee, Dr. Hartwig Wendt from Cefic, Christiaan Fetter of the European Solvents Industry Group (ESIG) and Paul Hodges from International eChem.
Following the formalities of the AGM, the afternoon session consisted of presentations from industry bodies relating to Safety, Health and the Environment and other current issues.
Rob Oades set the ball rolling by presenting the recent work of the SIA Technical Committee, including an update on the progress of the latest SIA safety film – Safe Handling and Transportation of Bulk Solvents by Road, which is due to be released in Spring 2017.
Rob also covered the 2016-17 work programme objectives for the Association and invited those present to become involved with Technical Committee projects.
Hartwig Wendt of the European Chemicals Industry Council (Cefic) followed with a presentation on the current hot topic of sustainability, which was of interest to all of the industry sectors present.
Christiaan Fetter is Chair of Product Stewardship with the European Solvents Industry Group (ESIG) and offered an update on ESIG activities over the past 12 months, covering the three cornerstones of Advocacy, Product Stewardship and Communication.
The final speaker of the session was Paul Hodges, founder of International eChem, who gave a fascinating insight into the potential effects of Brexit on the solvents industry and how the performance of the chemical industry reflects the state of the global economy.
The Solvents Industry Association would like to thank all of the speakers for what made an interesting and informative session.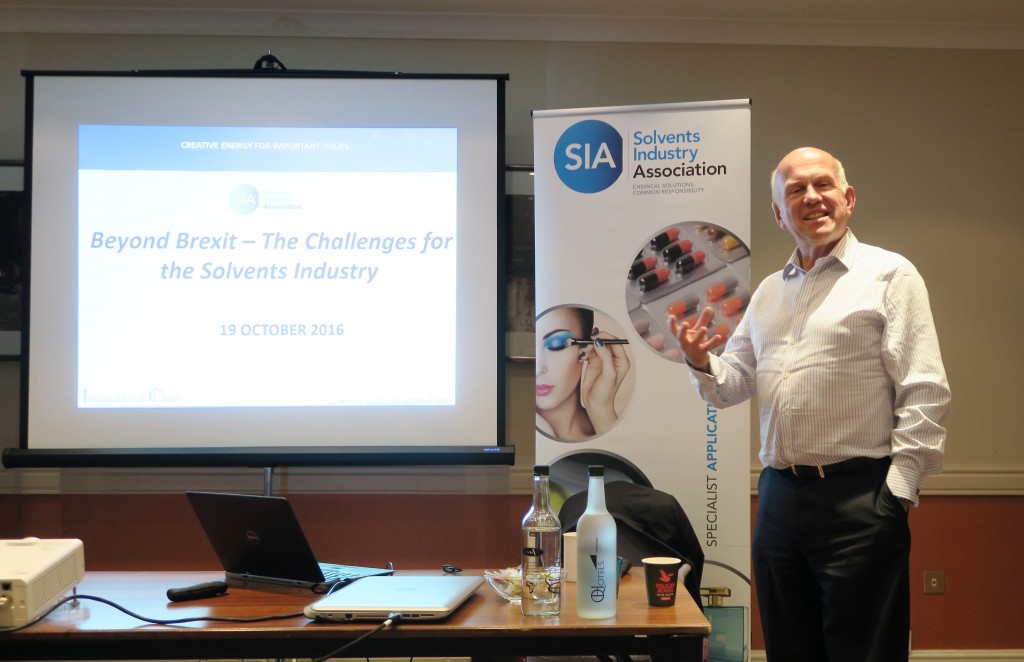 Paul Hodges of International eChem presenting at the Solvents Industry Association Annual General Meeting
A relaxed evening of dinner followed by presentations to outgoing Chairman, Chris Hall and of the annual Gerald Soane Award for outstanding contribution to Health & Safety (reported separately).
After dinner entertainment was provided by Team Spirit, who conducted a modern take on a pub quiz. Well done to the 'Chemical Brothers' who were the victorious team on the night.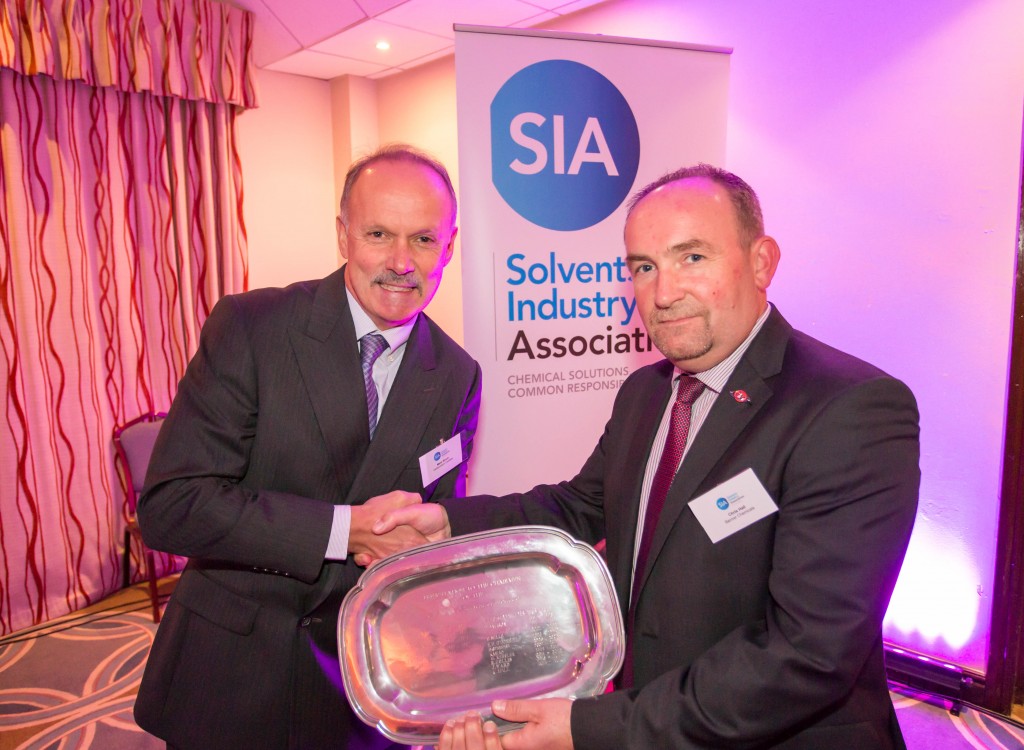 Chris Hall receives the SIA Chairman's Salver from Mark Brunt
The Chairman's charity raffle raised £525 in aid of Queenscourt Hospice in Southport, which was a fantastic effort. Many thanks to Alcohols Limited and Hayman Limited for generously donating prizes on the night.
For further information, please contact Andrew Norman, General Secretary info@solvents.org.uk