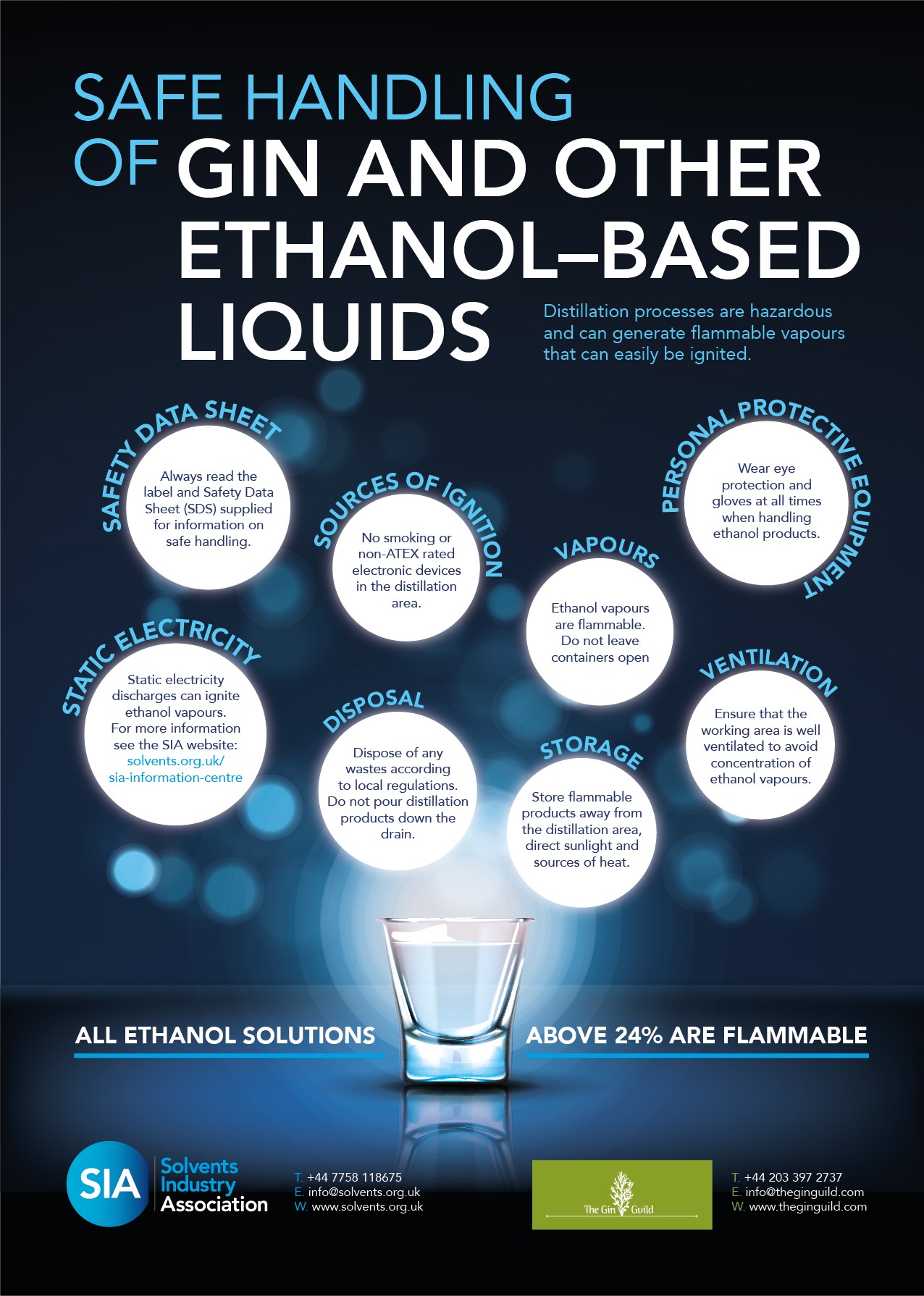 ---
The Solvents Industry Association has produced a safety poster to highlight the dangers of handling ethanol solutions for distillers.
In recent years there has been a huge increase in the number of distillers in the gin market, many with little experience of the industry and often using naked flames in the distilling process. This gives rise to an increased risk of fire, through the use and storage of ethanol in working areas.
The SIA, in collaboration with the Gin Guild, the gin industry body which aims to represent the distilled gin industry as a whole, has issued a guide to safe handling of gin and other ethanol-based liquids.
Nicholas Cook, the Director General of the Gin Guild, said, 'The industry has seen great expansion over the last few years. There is concern that newer players in the industry, particularly those producing distilled gin on a very small scale, are potentially exposing themselves to considerable risk.'
'Distillers need to be aware of the dangers of using ethanol, and of the need to ensure, regardless of the size of their operation, that they operate with good industry practice.'
'I hope that the poster issued by the SIA and ourselves will be clearly and prominently displayed in all relevant properties and that it will act as a guide for all who are involved in dealing with ethanol. It is hoped that this will also act as a prompt for many to seek further guidance and assistance in order to mitigate the dangers involved.'
Andrew Norman, General Secretary of the SIA supported the view when he added, 'We are delighted to be working in collaboration with the Gin Guild to raise awareness amongst large and small gin producers of the potential hazards of handling ethanol-based products.'
"We are all aware that spirits can easily be ignited through cooking or producing cocktails, but the familiarity of the products which are readily available in our everyday lives can often lead to complacency, with the risks often underestimated.'
For further advice on how to handle ethanol-based products safely, or would like to receive a downloadable pdf or jpeg copy of the new poster, contact the Solvents Industry Association www.solvents.org.uk/contactus
For more information on the work of the Gin Guild, contact Nicholas Cook, Director General nicholas.cook@theginguild.com